Home Loans in Chandler, AZ
Who We Are
Here at John Z Home Loan Team in Chandler, AZ, we offer home loans. John is a loan officer with a lot of experience and has even demonstrated a history in operations, marketing, sales, and finance. John has involved himself in more than 2,000 mortgage transactions and is well-known throughout mortgage history as a resolution expert. We offer a broad range of loan products, ensuring that everyone has something to obtain from us. Our entire team strives for a home loan experience that exceeds our client's expectations. We know how important it is to build a business from repeat business and referrals.
What We Offer
We offer home and commercial loans.
Choosing the Right Loan
We will begin by helping you select the right type of loan. We understand that this is a huge step in the loan process. We also understand that every client has unique financial needs. We start by getting to know every one of our clients on a personal level so we can understand what their home-buying or commercial needs are. This enables us to find the perfect mortgage loan program. We also work with a variety of down payment assistance programs, including FHA, VA, Jumbo, and Conventional home loan programs.
Contact John Z Home Loan Team today at 602-402-7773
Walk With You Every Step of the Way
We will walk with you every step of the way until the entire process is complete. This ensures everything goes smoothly. We take communication seriously and understand how important it is to communicate with our clients throughout the process, as this is one of the biggest transactions you'll probably ever make. Our team members will guide you through every step of the consultation process until you receive a set of keys for your new home.
The Approval Process
Our approval process is simple. You can expect to spend about 15 minutes completing your loan application. Once you submit your application, our team will be notified immediately. We will then review your mortgage documents, and a loan officer will reach out to you to discuss your pre-qualification. From there, a pre-qualification letter will be issued to you and your realtor partner. A pre-qualification letter is a great way to let your realtor know how much you can afford financially. It also lets the seller of the home know you are financially able to purchase their home.
Your New Home Is Waiting for You
Purchasing a home, whether for the first time or second time, is a part of the American dream. We understand just how overwhelming the process can be. However, purchasing a home is something that you will carry with you through the next chapter in your life. So, what are you waiting for? We understand there may be many reasons why you haven't taken the jump yet. But whatever the reason is, you can still obtain the home of your dreams. Our goal is to help you close your home loan in no time and guide you throughout the entire process.
WE CLOSE THE TOUGHEST LOANS
Our team members are known by our partners and clients that we have the hearts of a teacher. We close all types of residential Arizona Mortgage loans and in the process, we have gained a reputation of having a high rate of success in closing what are generally regarded as tough loans to close. It is common that we come across clients that have prior credit or financial events that take guidance to correct. We personally help our clients throughout the estimated timeframe of financial repair to put them in a position to purchase a home.
1. Find the perfect type of loan
Choosing the right type of loan is a big step in the loan process as each client has a unique financial profile.  We personally get to know each and every one of our clients to learn about their home buying goals to navigate which Arizona mortgage loan program best fits that criteria.  We work with a number of down payment assistance programs as well as the common FHA, VA, Conventional, and Jumbo home loan programs to find you the best Arizona mortgage loan for you.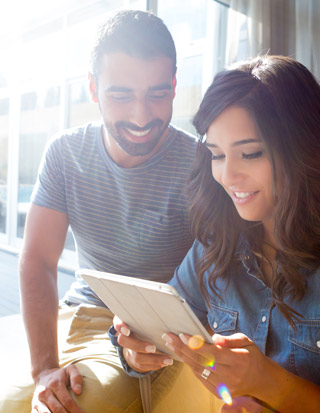 2. We walk you through the process
We work with our clients step by step, from start to finish during the loan process to ensure the process goes as smoothly as possible. We take pride in communication and know the importance of staying consistent with our clients and partners as this is one of the biggest transactions someone will make. Being organized and prepared is important when obtaining a home loan. Our team members will guide you step by step through the loan process from the first financial consultation, to pre-qualification, and throughout the remainder of your transaction and receiving your new home keys.
3. Our reliable approval process
It's quite simple. Our pre-approval loan application takes about 15 minutes to complete. Upon submission, our team is notified immediately and will review your mortgage documents thoroughly. You will then be contacted by a trusted loan officer on our team to discuss your financial capability and what you are pre-qualified for.  From there, we will issue a pre-qualification letter that we will provide to you and your realtor partner.  By having a pre-qualification letter, this is an indication to your realtor on how much home you can afford and to buy and specifies to the seller of that home that you are qualified to purchase their home.
John and his team were excellent! This was our second time using them. The first was for a cash-out re-if, this time around was a loan for a home purchase. They made it so easy! Super friendly and there every step of the way with us. Thank you, John and team!
Kim Guggisberg
Refinance
My refinance process was such an easy experience. Attention to detail was exceptional. Highly recommend AmeriFirst for your financial needs.
Kevin Shipman
Refinance
Holly Randolph
Home Loan
Second finance/refinance with the John Z team and it came together perfectly. Tyler kept us involved and informed every step of the way, even making sure that the title company and notary had all the details squared away on the Friday before closing (It's amazing how many lenders don't pay attention to details like these). This is a great outfit.
Steve Mills
Refinance
The John Z Home Loan Team did a great job keeping me informed as my loan process progressed. They were always available to answer all of my questions and made my home loan process seem less.
Evelyn Leone
Home Loan
Talk about hard working and thorough. I never knew I would like personalized attention until AmeriFirst helped us with our VA Home loan. John and Maria were there along the entire process. They will tell you first hand, things got sticky and they stuck their necks for us to ensure that we got the home of our dreams.
Herrera Family
VA Loan
Our Latest Videos
Subscribe and stay up to date with the latest Arizona mortgage info.
Home Buying
Buying a house has long been a staple of the American dream. We know that the idea of making a large purchase like this can be daunting. However, buying a home is something that will leverage you into your next life chapter. Have you asked yourself lately, "does my personal residence put money into my pocket or take money out of my pocket?"   There could be a variety of reasons as to why you haven't taken that leap yet; student loan debt, credit card debt, not high enough credit scores etc. What if we told you that you can still obtain this dream of home ownership? Our #1 mission is to close your home loan on time and educate you throughout the home buying process. We're here to help! Having a team like ours is crucial and sets us apart from others out there.
LOAN TYPES
What different mortgage loans are available to you by choosing the John Z Home Loan Team? Which one do you believe would be the best fit in your scenario?
FHA | Conventional | VA Loan
YOUR NEW HOME
Are you tired of renting? Are you ready to move your family into your future?
We know the Valley and support our local businesses and families. Why go to mortgage companies that are not familiar with your area. We are located right here in the Valley so we can approve loans faster.

Barret Financial, Inc. – NMLS 145368
575 W Chandler Blvd. STE 225, Chandler, AZ 85225
Phone: (602) 402-7773
Email: [email protected]
AZBK #0013635